ABOUT
Growing up in the city of Rocky River, I was always the kid looking to wet a fishing line. Whether it was walleye fishing out of my Grandpa's boat, casting flies for steelhead in the Rocky River, sneaking onto the golf course at night catching top water bass, or going out to the local pond to catch creeks chubs and catfish; I loved to fish.
After attending St. Ignatius High School in Cleveland, I headed off to Ohio University in 2001 to pursue a degree in aviation. It made sense to me, as I was always intrigued with flying,
and it would potentially offer me a career with the freedom to travel and fish the world.
During my summers in college, I began my fishing career by working as a fishing guide in Alaska at Togiak River Fishing Adventures. After graduating college, I was hired on at O.U. as a full-time flight instructor. In 2006, I decide to move on from flight instructing and began my current full-time career as a commercial airline pilot for ExpressJet Airlines.  Spring of 2015, I further advanced my aviation career and took a job with Delta Airlines which I am currently flying the Boeing 757/767.
I had to take a little step back in 2015 for my tournament fishing due to my training at Delta.  This is one small step back to take a million steps forward in the future.  Now that I am settled into my new career, my scheduling and financial flexibility to fish tournaments the way I want to will increase exponentially.
My aviation career allows for ~16 days a month off from flying which allows me to focus on fishing.  If there was a perfect career to match with a guy who likes to travel and fish the world (besides being a full time professional fisherman), I've got it.  During my time away from flying I began fishing walleye tournaments in 2007. I now fish the National Walleye Tour and Masters Walleye Circuit, as well as a variety of local club tournaments. With tournaments running April through October, and steelhead running the rivers of NE Ohio October through April, my friend Owen Murphy and I started a steelhead guiding business in 2009 (Ohio Steelhead Drifters). In 2011, I upgraded my Coast Guard Captains license from "Limited to Freshwaters of Alaska" to all the Inland bodies of water and the Great Lakes. I began Buddie Charters in 2012 and currently run 1-3 person walleye charters on Lake Erie.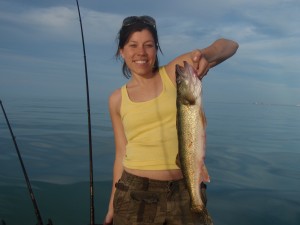 In the fall of 2011, I got engaged to the love of my life, Julia, while night fishing off Cleveland on Halloween. September 8th, 2012 we tied the knot and I look forward to spending the rest of my life with her. She is my biggest fan and supporter in the fishing business, and loves to spend a day on the water with me when it's nice out!
Our newest addition to the family is Nora Ryan Buddie, born April 24th, 2016.  She joins our other daughter Stella Marie to make our family 'Buddie party of 4'.   The girls have been a wonderful blessing and everything we could have hoped and dreamed for!  Although having kids has definitely been a life changing event, Julia, Stella, and Nora still send me out of the house to go fishing and spend some time on the water; they know whats best for me.  🙂