National Walleye Tour Lake Erie, 2nd place recap…
Sorry it took me a few days to get this up.   Part of it was that I just needed to unwind and spend some time with the family for the Easter holiday.  Part of it was that I didn't know what to say and I just needed to let my emotions stabilize bit.  Long story short, I ended up in 2nd place out of a 152 boat field on the biggest walleye stage there is.  The support I had was amazing.  From fellow anglers, my family, friends, teammates, the media, and the city of Huron, everyone was rooting for me.  This ended up being almost double my previous biggest payday in walleye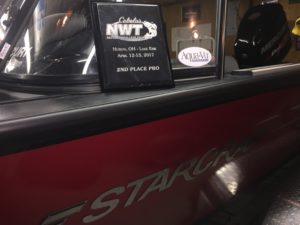 tournament fishing at $25,692.  I should be tickled to death thrilled, that's good money and it's nice, but I'm a PBR and PB&J kind of guy anyways, I always will be.   I wanted to hoist that trophy, I wanted to be the best of the best, and I had a chance…
So here's how it all went down.
My teammates and I started  prefishing the Thursday prior to the event, we covered everything from Detroit River to Lorain, Canada shoreline to Sandusky Bay, and everything in between.   Big shot out to my teammates: Zak Jobes, Randy Gaines, Nicholas Zart and Gary Zart.  We together worked our butts off and I simply couldn't have done it without them.  Anyways, practice was tough.   Gary was cracking them good East of Kelly's during the early part of practice.  The friday before the tournament (5 days prior) we had 4o mph NW winds which muddied up all the fishy areas besides that water East of Kelly's.  With the amount of boat pressure there and the settling lake, we felt that area would shut down.  The rest of us scrambled all over the lake.   I spent Saturday of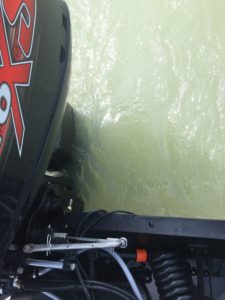 practice putting 120 miles running up and all over Canada.   It seemed to be a theme, 80-120 miles a day on the Starcraft STX 2050 pushed by the Mecury Pro XS and just scanning water with my Lowrance Electronics.  That really is the name of the game this time of year.  Water changes everyday.  The fish like the muddy water, but it's tough to catch them in it.  You have to find that right sweet green colored water along with good marks on the Electronics.  That changing water, along with the spawn going on is why so many struggled in this tournament.  So again, we covered water and tried to find and pattern how that sweet green colored water shifted with shifting wind conditions.  I think the best I did in 5 days of practice was maybe 3 fish?  Tough I tell ya.  We tried fishing the mud near the cans where there were SICK marks, and it seemed to be we would only catch a fish here and there, and they were usually GIANTS.  But they were few and far between and no way only fishing 4 rods in the tournament did we feel we could put together a five fish limit.
Baits, I tried a billion of them.  Everything from Reef Runners, Huskys, Flicker Minnows, custom carved musky baits, P10s, large shad baits, and Bandits got soak time.  The only thing that pulled fish were Bandits and Flicker Minnows #11.  I tried fr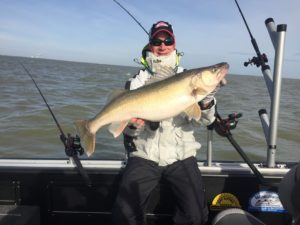 om sky high 3′ down in the water column to dragging in the mud with Off Shore Guppy Weights.  The active fish seemed to be 10′-20′ down in the water column.  This kind of surprised me, as usually this time of year, with a warming trend like we had, the active fish rise into the top 4′-8′, especially the prespawners.  One pattern we seemed to notice, is the further West we got, near the Cans, West Sister, and Michigan, the fish were a little higher, leads on crankbaits of 35-50′ worked best.  As we got Islands east, leads of 50′-120′ back, targeting 12-20′ down was better.  Until about 3 hours left in practice, this was all we had, and that Kelly's bite sure enough fell apart.  That was until Zak and Nicholas cracked a good pod of them in that sweet green water just off West Reef near North Bass.  Each of them pulled multiple hogs in a short pass up there, booooyeah!   Once that area fires up, it's usually pretty stable and fires for a few days.   The reef cleaned up, but that's a major current funnel, with muddy water flowing from the western basin through the islands.  The transition of water color just off the reef was the ZONE.   Also during that last day of practice, I ran round the Cans and found that water cleaned up big time in the last day.  I only caught a couple fish over there, and none were the giants that West Reef had, but it was still a good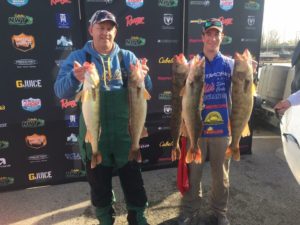 backup plan.
So game day came.  I ran straight to West reef.  When I got up there, the water had that sweet green tint.  The Lowrance Sonar was lite up with hogs right in the zone, 10-20′ down.  Only problem was that we weren't the only guys who found those fish, fishing pressure was there.  I set up and started doing work.  Right of the bat, 'Dotty' and Firetiger Bandits started firing.  40′ back on Firetiger, and 80′ on 'Dotty".  I hit one and watched Zak hit one in the same spot right off the edge of the reef.  So being that it was calm enough, I spun back and trolled right over that same spot.  I kept plucking away and by 11:00am I had a 24″, two 30″ers, and two 27″ers in the box, nice fish, but all skinny post spawners.  I was feeling good.  One of the reasons I think Zak and I did so much better than all the other boats up there is that those fish, or the active ones atleast, were packed right up on the edge of the reef.  When I say edge of the reef, my inside boards were probably in 25′ of water, my outside were in 33'.  Most of the other guys were were on the adjacent flats.  Another reason is we were adding scent to the baits, which I think makes a big difference on a tough bite.  I add a tiny dab of Pro Cure walleye gel to the tail at the beginning of the day, then spray the baits down with Berkley Gulp! Minnow/Shad spray each time they go in the water.
By noon, it seemed the bite shut off.  I thought, I have a nice bag, let me see if I can run down to the cans and catch a fatty prespawner full of eggs.  I ran over and fished some mud near B can, caught just one little dink.  During the last day of practice, I had some sick marks near round reef, so I ran over there, but the water had cleaned and marks had dissipated.  So I kept running southeast until I found the transition water, it was about a mile north of G can.  I set up and Dotty took a 29″ upgrade.  Beautiful, I had a nice bag and it was time to head in.  I was a little nervous about the South Passage between the islands and Marblehead kicking up, so I left a little early.  The Starcraft Mercury combo ate the South Passage alive, and I ended with a few minutes on some good water color and marks over off the corner of Marblehead.  Nothing there, but I headed back with a nice bag for 39lbs and was sitting just behind my good buddy and teammate Zak in second place.  Great day.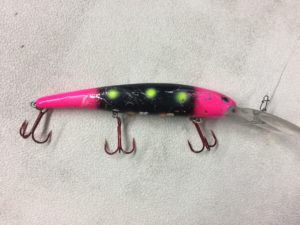 Let me tell you about 'Dotty' before I get into day 2…  Dotty is a custom painted black and pink Bandit painted by Warrior Lures, official name for the color is 'Spaced Out'.  Zak actually gave me 'Dotty' after a big finish he had on Green Bay last year.  Anyways, Dotty has been on fire since November.  The funny thing is, I have 3 other identical 'Spaced Out' Bandits, but that chewed up one out fished all the others by a Lake Erie tsunami.   I usually carry a sharpie marker and mark a hot bait, no need with Dotty as I can tell which one she is by all the chew marks.  Some may laugh at this, but I know from my King Salmon fishing days, sometimes you get a lure that had just the perfect tune, action, and rattle.  They don't all come out of the package identical.  'Dotty' is special.
Alright, day 2.   We have a wind shift. East-Northeast coming strong.  I didn't think this would hurt the bite up there so we ran straight to West Reef.  The water color hadn't change and my Lowrance was lite up again.  First pass, bang bang bang.  3 lures at 3 different leads from 40-120′ back.  The bite was on, and 2 of the 3 fish were giant prespaweners.  I thought this was going to happen, I thought this was my day.  But the boat pressure was horrendous.   I started making passes right on my sweet spot but the bite had shut down.  I never saw a fish get caught around there the rest of the day.  My window there was short and closed fast.  I moved off the pack and started working different passes in the area with nothing to show.  It was about noon and the lake was getting rough.  For some reason, not thinking that most of the other leaders were in my area and looked like they were struggling, I still thought I needed 2 more BIG bites.  It was decision time.   Run down to the cans, or head over to Kelly's Island Shoal.  I had this gut feeling that Kelly's Island Shoal would be firing with that East-Northeast wind, plus it was on the way back, and I would be able to trough the waves back to Huron for an easy ride in the last 17 miles.  I got up the Shoal and my screen was LOADED.  I was all by myself, just me and the 6′ waves, perfect water color, I thought for sure it was going to happen.  Everything felt right, but nothing happened, I guess it just wasn't meant to be.  I headed back and with 10 minutes left to go, I set up right in front of the river in Huron, again nothing happen and I had to take my 3 fish to the scale, 2 fish short of that precious limit.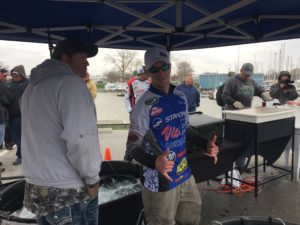 Turns out most of the other guys and leaders around me did struggle.  I had a chance with my 3 fish.  But someone lower on the field would have to pull a monster bag to just barely clip me.   Congrats to Mike Defibaugh, you did it.  Now as for me and my decisions, I blew it.  I don't know why I thought I needed such a monster bag, I was in the lead that last day, and with 2 giant prespawners in the box, it was going to be tough for anyone to beat me if I had a 5 fish limit.  I'm an idiot.  This jig bite was on fire, I knew it, and its not a matter of if I could have jigged up a couple keepers, it was just matter of running about 6 miles out of my way and spending 30 minutes.  Granted the jig fish are not big, but at a minimum 1.5lbs each.   Turns out I lost by 2lbs, was 2 fish short of a limit and could of had it.  Best tournament finish of my life, but still a little bittersweet.  A couple years ago I took a 5th place in one of these on Green Bay.  Every decision and move I made in that one was spot on.   I nailed it and that 5th was the best I could do, that's why this one stings, I could have done better.  Also, for you guys that do this, you know that opportunities to win these don't just come around all the time, when you have a chance and don't close, it hurts.  But all this is why I love our sport so much, it so technical, so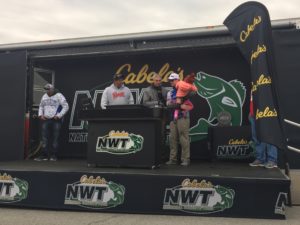 mental, so emotional, and so passionate all at the same time.
Big shout out to all my sponsors.  I didn't miss a fish during the tournament and my equipment preformed flawlessly.  The Abu Garcia Vendetta Line Counter Rods 7'10" Medium matched with the Alphamar Reels and spooled with Berkley 10lb XT mono is the perfect combo for trolling for Erie Giants.  I truly believe the Off Shore Tackle Boards are a huge reason why I didn't loose any fish, they way they ride and react to a fish bite is HUGE.  Keep an eye on my YouTube channel for tips on how I rig my boards these days, video coming soon…  The Stracraft STX was a beast and that Mercury Pro XS 250hp was a workhorse all week.  Its nice knowing you have that reliability when you have a big bag and a 30 mile run in rough water.   The Lowrance electronics, if you don't have them and know how to use them, I don't think you would have a chance in these kind of tournaments, such an important part of the game these days.   Costa sunglasses really help in seeing those critical water color transitions, it truly is like seeing in high definition, I love that 580G Green Mirror lens.  The Bert's Custom Tackle Pro Craddle Rod holder allows me to grab the rod and lift it back for that critical hook set, super important in capitalizing in those critical bites.  And of course my best sponsor, my wife and kids who are my biggest fans, love you!
On to the next, Lake Sakakawea North Dakota, I'll be coming hungrier than ever for the trophy.