Lake Sakakawea NWT
Any time you fish a tournament, you always aim for finishing in the money, the top 25%, especially on a new body of water.  Coming off the momentum from my 2nd place on Erie, top 25% is what I was hoping for with this one.  So ended up a very mediocre 52nd in the 112 boat field.  Usually when you have a finish like this, you come home disappointed and wondering woulda coulda shoulda.  Not this one, I really did have a blast fishing there, and most importantly, I am a much better fisherman now than I was before this trip.  I always say that after a trip like this, but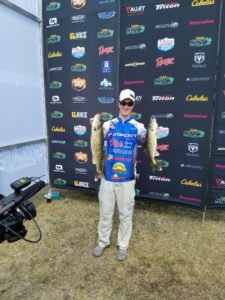 this one was especially true.
All the word heading into this tournament was how tough the bite was going to be an how long of runs we were going to have to make.  That was partially true in that we had to make long runs, but the bite wasn't tough, if you were in the right area.  It turns out there were fish all over the lake, including right near where we were taking off at in Garrison.  We knew this from talking to and watching the DNR pull their nets with lots of nice walleyes.   The problem was that the water in the east end of the lake, near takeoff, was considerably colder than the west end, and because of that, the fish were just about to spawn.   The strange thing about this was that they wouldn't bite.  I'm used to Erie and the Detroit River during the spring spawn, and we can absolutely crush them, but something about these fish spawning totally put them in a negative biting mood.  We tried and tried and tried, maybe too much, on the East end of the lake, and couldn't get anything going.
So we started working West and started to put something together in the Little Missouri River area of the lake.   It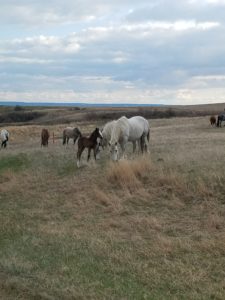 was a blast fishing there: beautiful scenery, wild horses running the prairie, and lots of fish.   After trying a variety of techniques: pulling slow death, casting crankbaits, pitching plastics,  blade baits, lipless cranks, but the best thing seemed to be pitching a live minnow tipped on a 1/4 or 1/8th ounce Northland Fireball jig.  Glow white in the morning, firetiger as the sun came up.  This was a blast.  The key was looking for shorelines with high bluffs, and then using my Lowrance 3D structure scan to find rocks underneath the water.  If we had rocks, we had walleyes.   So near the end of practice, we focused on finding as many of these type of spots in the area, seeing if certain ones held a better grade of fish, and honing our jigging technique.   This isn't a style of fishing I have done a whole lot of, but I gained a ton of confidence in it as the week went on.   It was find these spots on the shoreline, then get on the trolling motor with the footpedal, and work along the shoreline with the boat in 10-20′ of water.  We would then pitch the jig up into as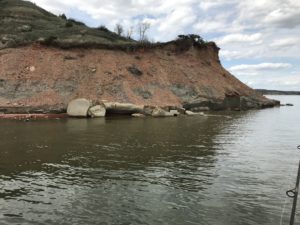 shallow as 3′.  It seemed with the water still in the 40s, they wanted a slow lift and drop, that's why those light fireballs worked so well.  And that's also why I don't think some of the more aggressive techniques like the blade baits, spoons, and glide baits were working quite yet.   Man I would love to get back there in a month when that water gets up in the 70s.
So rumors were that the only places people were catching fish was in the White Earth Bay area and up, which was 100+ miles from takeoff.  There was also question about how much fuel was going to be available up there, what the wait time to get it could be, and how rough that lake could be for the tournament.  Lots of variables to turn me off of heading up there, not to mention we were catching some nice fish in the Little Missouri, lots of lower 20″ fish and even some in the 26-29″ range.  So I was going to let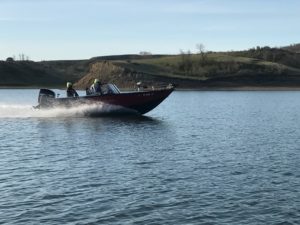 the guys have it on the 100 mile runs, and focus on the Little Missouri, a 55 mile run, and thanks to my super fuel efficient Mercury Pro XS, I could run wide open and not worry about having to refuel there.
So the tournament came, and we headed up there.  There was an area near the mouth of Squaw Creek Bay that seemed to hold not as many, but definitely a bigger grade of fish.   My plan was to try to stick a couple big ones early then go look to fill up a limit if I had too.  I stuck a 23″er right away and was feeling good, but couldn't pull anything else in the next hour, so I headed to our 'numbers' spot.  We were popping lots of fish, but mostly 14-16″ers.  I ended up boxing a limit of those smaller ones with one 18″ we got there, and then returned to the big fish area with and hour or so to go.  We did get an 18″ upgrade, but that's it.  It was time to head to the scales and I weighed 12.33lbs which only put me in the middle of the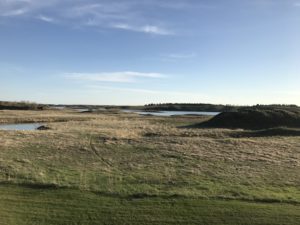 pack.  To my surprise, ALOT of other guys got them that day.  I didn't think that many people would catch 5 fish limits and have as big of bags as they did.  I still wasn't that far out and had a lot of confidence that I could get back in the money.  Especially because it was set to blow harder day 2 and I figured that would make it harder on the guys making ridiculously long runs.  So I went back to my big fish area, and popped a beautiful 28″ fish in the first 30 minutes.   This was maybe one of the most fun and exciting fish I had ever caught in my tournament career, she cracked that 1/8 jig up in 3′ of water and gave me a hell of a battle.  I was fired up!  Again though, I couldn't get a bite in the next hour, so I left and tried to scrounge up a limit.  It was a lot tougher this day.  I ended up with a 28″, 21″, 18″, and a 15″ fish, one shy of a limit.   It gave me a 15.2lb bag for the day, and bumped me up to 52nd place, not enough.
My mistake, I didn't think it was going to take as much weight as it did to get in the money, and I should have just stayed on the big fish area the entire time.  One of our other teammates, Ryan Reiger, ground it out on the big fish area both days of the tournament and ended up cashing a nice check for 14th place.  Oh well, you learn, and learn I did…  I spent more time in the 8 days of fishing up there on the bow of my boat, jigging rod in hand, and foot on the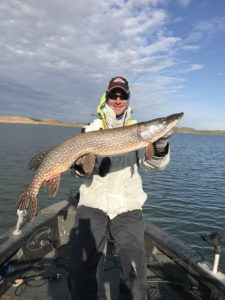 pedal than I do in an entire typical season or maybe even multiple seasons.  And I love doing this, its just I don't get that opportunity on Erie and a lot of my other Great Lakes arenas.  That made it fun, and I am not doubt way better in that situation, with boat control, and light jig management, and reading the topography of the shoreline to find fishing spots.  Awesome stuff, I can't wait for the next time I get to go prairie fish reservoir walleyes.  I'm going to crush them, and this trip will be a lot of the reason why. 
Big shout out to Bob Luellen who fished with me all week and cooked some amazing meals, Randy Gaines, Zak Jobes, and Ryan Rieger who worked their butts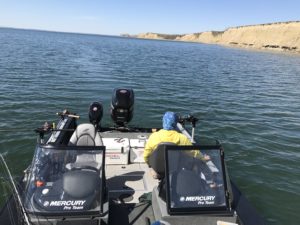 off all week on the water, and Dan Niese, Bill Gaines, and Gramps who put in a lot of work in the boats helping us find fish.  Congrats to Bill Gaines who finished 2nd on the Co side and Ryan Rieger who finished 14th on the pro side.  Also huge thanks to Todd and Michelle of Lake Bottom Lodge, what a sweet place that was we stayed at up there in Garrison, ND.
Next is the National Team Championship on Lake Erie out of Lorain in early June, time to put ND behind me, tie some spinners, and get ready for this slugfest…